Driving the back roads around Lake Powell can be quite an adventure. There are many sites to see and a great deal of unspoiled country. Few places allow access to the Lake itself but there are many places that offer views that are spectacular. The photo on the header above was taken from Alstrom Point. Details are provided for some of the possible road trips around Lake Powell.
It is highly advisable before you attempt many of these treks to make sure you have a good map, a four wheel drive vehicle and plenty of water. And be sure to check road conditions before you go. Many of these dirt roads turn into quagmires when it has rained recently.
And if you stopped by to see us, remember to only drink alcohol once you have stopped for the day. No drinking and driving, even on dirt roads.
Crosby Canyon:
From Big Water, Utah take the Smoky Hollow Road. After 20-30 minutes (depending on how fast you drive) you will come an intersection that is marked for Crosby Canyon. Take the right turn and several miles down the road lies Lake Powell. How far around the area you can get depends on the lake level. Close to full pool limits where you can drive to. At lower levels there are many places to go and campsites are plentiful.
Alstrom Point:
If you go straight instead of turning down Crosby Canyon you will run into the turnoff for Alstrom Point. This is not marked but it is to the right a few miles past the Crosby Canyon turn off. After a few miles down this road there will be several roads going off to the right. Pretty much all of these will take you out to Alstrom Point. There are several places to overlook both Warm Creek and Gunsight Bays. Probably the best photo site for Lake Powell. There is no survivable access to the water from Alstrom Point. If you do not turn off toward Alstrom Point you will head toward Last Chance Creek.
This is an approximately 60 mile drive down a dirt road to a point where Mormon Pioneers dropped down into the canyon to cross the Colorado River. The National Park Service has a web page about this drive.
Burr Trail:
The Burr Trail runs from Boulder, Utah to Bullfrog Marina on Lake Powell. It is mostly paved, with only the section that passes through Capitol Reef National Park still dirt. Part of this dirt section is a steep, rough set of switchbacks (shown below). There are some decent panoramas of Lake Powell while approaching Bullfrog Bay.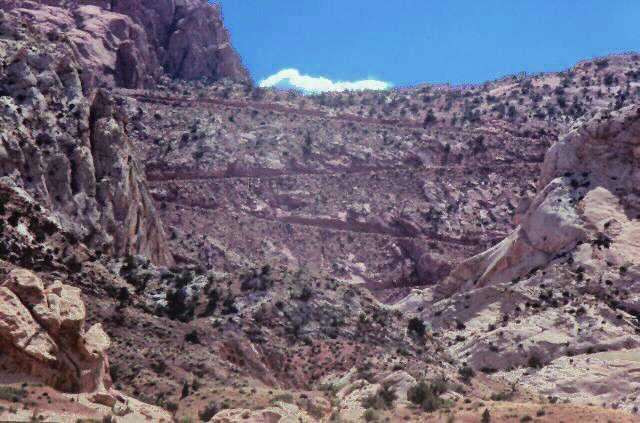 Farley and White Canyons:
Just south of Hite on Utah Highway 95 there are access roads into both Farley and White Canyons.
Clay Hills Crossing:
Clay Hills Crossing can be accessed by taking Utah State Highway 276 south of Halls Crossing Halls Crossing to San Juan County Road 278. It is about 12 miles down this dirt county road to Clay Hills Crossing. There may not be any lake there if the lake level is low.