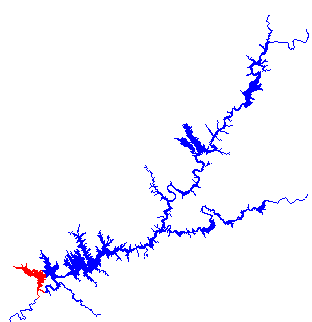 Wahweap Bay (Wahweap is a Paiute word meaning "bitter water") is the first bay of Lake Powell. Not only because it is closest to Glen Canyon Dam but because of the popularity of its' facilities and its' proximity to Page, Arizona. Wahweap Bay offers many opportunities for Lake Powell explorers either with or without a boat. Because of this, Wahweap tends to be the most crowded of the Lake Powell bays.
Wahweap Bay is the busiest bay on the lake. Not only is Wahweap Marina located here but much of the western and southern shore is accessible by automobile, with just a short walk to the lake. Glen Canyon Dam is nearby and Lone Rock Beach offers those without a boat camping opportunities on the lake shore. You could also drive to the other side of the bay and hike in one of the canyons. Thus Wahweap Bay is the most accessible, and most accessed, on the lake.
Several hikes exist in this area. There are many good campsites in Wahweap Bay. Due to the popularity of the bay it may still be difficult to find a secluded site during busy times. Many larger groups like Wahweap Bay and other bays close to Wahweap Marina to easily shuttle people back and forth who have to come late or leave early.
The channel between Antelope Island and Castle Rock is known as Castle Rock Pass or Cut. When the lake drops to about 3612 feet this pass ceases to be passable and boaters must go through the Colorado River channel to go up lake. Below are photos of Castle Rock Pass at about 3580 feet, 3620 feet and 3650 feet in lake elevation.
Adjoining maps:
Click on the topographical map to enlarge the image (Note: These are large images).
Topographical Maps (PDF files, opens in a new window):