Lake Powell offers innumerable opportunities for the boater. Expansive bays and numerous side canyons entice the boater to explore and play. Side canyons offer excellent water skiing out of the way of much of the boating traffic. Sandy beaches offer many chances to get off the boat and explore the shore.
There are five marinas located on Lake Powell. These offer fuel and some repair service. Due to the size of Lake Powell you will need to make sure you have plenty of fuel for your planned explorations. This can become critical up the San Juan Arm since there are no marinas in the San Juan. Very old maps may show a marina toward the end of the San Juan Arm and not so old maps may show a marina at Hite but these are not there anymore. Prepare accordingly.
The National Park service requires that boats be inspected for quagga and zebra mussel infestations before they are launched. More information is here.
Houseboating is extremely popular on Lake Powell. The marinas are filled with private houseboats and rental boats and houseboats are available, if you can reserve one far enough in advance. It is suggested that you plan a minimum of a year in advance to assure you can get a houseboat at the time you desire. Off-season rates are lower and the chance to get a houseboat is much better. Some people buy partial ownership in a houseboat to assure they have their week or two in paradise. True "time-shares" are illegal on Lake Powell. You must be a part owner of the boat, not just have rights to some time using the boat.
Due to elevation changes in the lake one can find Lake Powell different every visit. What was your favorite cove may under several feet of water your next trip. While this means that a person's Lake Powell experience will never get boring, it also exposes some dangers. With changing lake levels submerged rocks may exist in areas where they were not a problem before. They are dangerous to the boater and the boat. Nothing spoils a Lake Powell trip better than leaving your lower unit on a submerged rock. Caution is well advised when out of the main, marked channel. Unmarked channel shortcuts may cost you plenty. Submerged rocks and shoals are not marked outside of the main channel, which includes the entire length of the San Juan and Escalante Arms.
Another hazard to boaters are wakes left behind by tour boats and other large boats or by regular boats in narrow side canyons. Be aware of these and it helps to slow down before hitting these. It save you and your boat from some bone jarring activity.
The main channel is marked with buoys. They are described below.
The red or "nun" buoys denote the starboard (right) side of the main channel when heading up lake, away from the dam. The number on the buoy is the approximate mileage from Glen Canyon Dam. This mileage is measured in the old Colorado River channel. During periods of higher water many "shortcuts" exist that make these an inaccurate measure of true distances.
The green "can" buoys mark the port (left) side of the main channel when heading up lake, away from the dam. These buoys are also numbered with the mileage from Glen Canyon Dam.
Some of the red and green buoys are lighted, as shown below at the Castle Rock Pass. It does make navigation at night slightly easier but night boating on Lake Powell is generally not a good idea.


White "No" can buoys mark areas that have restrictions. These mark wakeless zones around marinas and places where boats are restricted. There will be writing on the buoy telling you what the restriction is. The National Park Service enforces these restrictions.

White "stick" buoys mark underwater obstructions or mark restricted zones. They have a red diamond. The red diamond always means danger when on a buoy. A red diamond with a cross means stay out. For your sake, and the sake of your boat, it is best to stay away from these at all times. White "ball" buoys with red diamonds also mark dangerous areas. As with the stick buoys, avoid this area.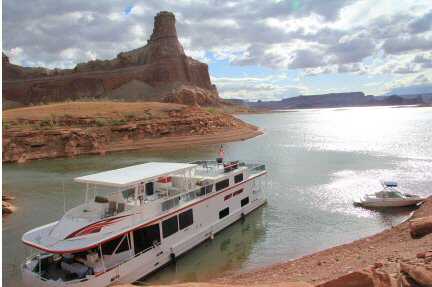 Storms can arise suddenly on Lake Powell. High afternoon winds are common. This makes boating more hazardous. If you are caught in a sudden squall it is best to find a side canyon to duck into. While these squalls can be common, they are usually short. It is best to find cover and wait it out than try to fight through the storm. Trying to dock and trailer a boat with high waves and wind is not any fun.
Since Lake Powell occupies two states, you will need to be familiar with the boating regulations of both Arizona and Utah if you will be crossing the state line at the southern end of the lake. Many of the regulations are similar but there are a few differences.
DO NOT OPERATE A BOAT UNDER THE INFLUENCE OF ALCOHOL. It is illegal and it's not real bright. Most fatal boating accidents on Lake Powell involve alcohol. Make sure if members of your group are going to be consuming alcohol that they do not operate a boat. It is best that you have someone who is not drinking designated to drive the boat.