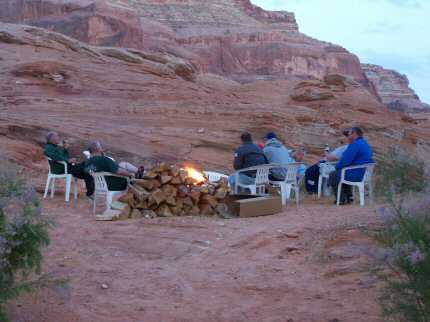 Lake Powell offers fine opportunities for boat camping and some limited opportunities for those who want to drive their automobiles. For "car camping" possibilities see the Driving the Lake page. Boat campers have many choices. The most popular choice is finding a nice, secluded stretch of beach and setting up a camp on shore. Many times the campers will "live" on shore and sleep on the boat. Depending on your boat and the number in your group you should have many options. Many "rocky" sites exist that one could establish a camp but this could make sleeping difficult if you plan to sleep on shore. Some boaters have also opted to find an out of the way place to anchor and then just stay on the boat. This could be fine but the boater needs to make sure they are not in an area where other boaters may come through in the night.
Campsites appear and disappear with changes in lake levels. Your favorite campsite might be covered with water or well away from the shore. The descriptions of Lake Powell Bays gives some general idea on the availability of campsites but the lake elevation is the key factor in determining if campsites are available.
The following are some tips for the Lake Powell camper:
Bring plenty of water or have some way to purify your water. While many may claim that Lake Powell water is fine to drink, one bad drink could spoil your vacation. And when it is hot, remember to drink plenty of water.
Shade can be scarce and it will get hot in the summer. A campsite that gets early shade in the afternoon can be a plus. Some type of shade canopy can make time ashore more bearable during midday. Some have camped beneath rock shelves to take advantage of the shelter from the sun and weather. If you find a site like this you might notice rocks lying around. They fell from the top of the shelf you are under. If your lucky they won't fall on you. If you are not lucky, have your will up to date.
In some canyons, the only beach you will find is at the end of the canyon where the drainage comes into the lake. If you camp here you should be aware that flash floods do occur in these canyons. Some canyons have drainages that start many miles away. If it rains hard enough there, you will get water running through your camp.
The National Park Service has produced a short video demonstrating and explaining the dangers of flash floods.

Regulations require either a portable toilet or a boat or camper with a self contained toilet if you plan to camp within 1/4 mile of Lake Powell. The portable toilets that use plastic bags are not acceptable. Do not bury waste. There are pumpouts available at all the marinas and there are floating pumpouts in several of the bays.
Find a campsite sheltered from the wind. Afternoon wind gusts are common on Lake Powell. If you are preparing food on the shore be aware that one must be careful not to have gritty food when the wind is blowing.
Make sure you haul out all your garbage. Leave your campsite as you found it. The next visitor will appreciate it as much as you do when you find a clean campsite.
Toys for the shore and water give the more active plenty to do. A sun shade and a good book can do well for those who want to enjoy the quiet solitude.
There is very little firewood in the area. If you want a fire you need to bring wood. If you want a big fire you have to bring a lot of wood.
Exploring the shoreline and surrounding areas is very popular. Make sure you take plenty of water on your hikes. Slickrock can be difficult to navigate so be sure you can get back to where you came from. Sandstone can be unstable, so be careful where you grab and step. If you find an archeological site, leave it undisturbed. If you are hiking in a narrow canyon be aware of the dangers of flash floods. Getting caught in a narrow canyon in a flash flood can be a fatal experience.
There are rattlesnakes and scorpions around Lake Powell. They are not a large problem and more than likely you will not see one but be aware none the less.