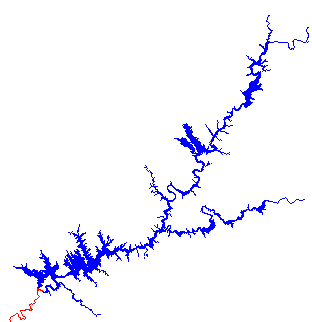 This is the only section of Glen Canyon left that is not inundated with the waters of Lake Powell. It can be boated up to a point near Glen Canyon Dam. Camping is only allowed in specified areas. Since this is a canyon environment there are certain camping regulations that need to be adhered to. It is considered to be an excellent trout fishery.
A scenic viewpoint exists that gives an opportunity to view and photograph Glen Canyon Dam and part of Glen Canyon. It is accessed off of U.S. Highway 89 by going west at the northern Page exit.
Adjoining Maps:
Click on the topo map below to enlarge (Note: These are large files).
Topographical Maps (PDF files, opens in a new window):